NEWS & TOPICS
2018 / 11 / 10
TOHOKU Event at Tokyo -Relations of Japan's heart, TOHOKU- 15th-16th Nov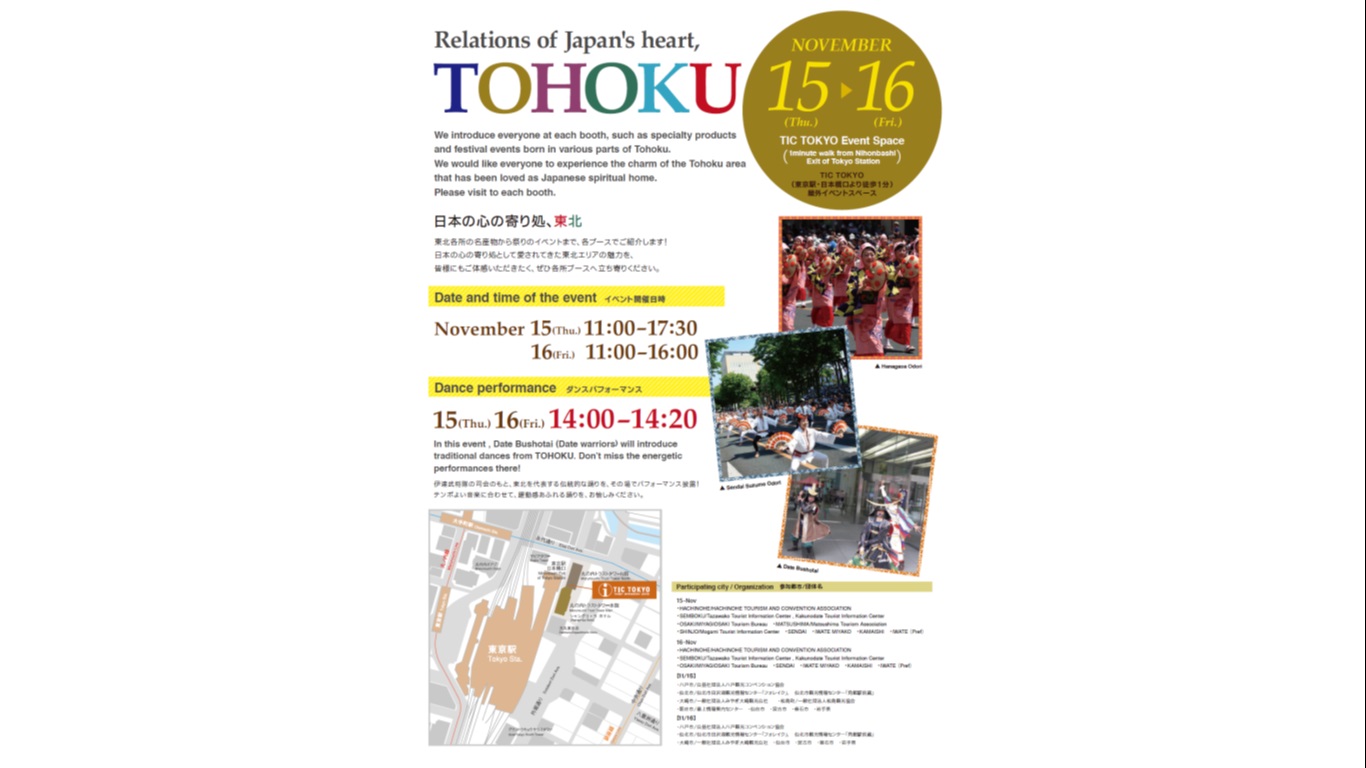 We introduce specialty products and festival events born in various parts of Tohoku.
We would like everyone to experience the charm of the Tohoku area that has been loved as Japanese spiritual home.
【Event Date and time】
November 15(Thu.) 11:00-17:30 ・ 16(Fri.) 11:00-16:00
≪Dance performance≫
15(Thu.) 16(Fri.) 14:00-14:20
Date Bushotai (Date warriors) will introduce
traditional dances from TOHOKU. Don't miss the energetic performances there!
【Venue】
TIC TOKYO Event Space
(1 minute walk from Nihonbashi Exit of Tokyo Station )
【Participating city / Organization】
15‐Nov
・HACHINOHE/HACHINOHE TOURISM AND CONVENTION ASSOCIATION
・SEMBOKU/Tazawako Tourist Information Center , Kakunodate Tourist Information Center
・OSAKI/MIYAGIOSAKI Tourism Bureau ・MATSUSHIMA/Matsushima Tourism Association
・SHINJO/Mogami Tourist Information Center ・SENDAI ・IWATE MIYAKO ・KAMAISHI ・IWATE( Pref)
16‐Nov
・HACHINOHE/HACHINOHE TOURISM AND CONVENTION ASSOCIATION
・SEMBOKU/Tazawako Tourist Information Center , Kakunodate Tourist Information Center
・OSAKI/MIYAGIOSAKI Tourism Bureau ・SENDAI ・IWATE MIYAKO ・KAMAISHI
・IWATE( Pref)