NEWS & TOPICS
2018 / 12 / 09
【Illumination in FUKUSHIMA】We will welcome you with many enchanting lights!
Enchanting winter illumination events!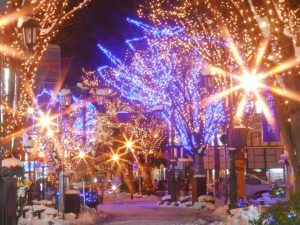 Come and explore one of the many delightful light displays!
Fukushima Station East Square Illumination :
Nov 14 – Jan 31, 5:00 pm – 11:00 pm
This annual display lights up the Fukushima Station East Square and brings an enchanting atmosphere to the city.
Hikari no Shizuku Illumination – Paseo-dori:
Dec 7 – Jan 31, 5:00 pm – 11:00 pm
Meaning 'Drop of Light' in English, this display highlights the romantic style of Paseo-dori,
a paved road that winds through central Fukushima City and is home to many restaurants and boutique shops.
It's the best time of the year to explore the culinary delights of the city center.
Checkout our Facebook page for further details about more illumination events around Fukushima City.